Gravel route from US-491 to Co Rd 213, Durango, La Plata County, Colorado
"One-way route, requires a significant shuttle. Mancos Canyon is a great gravel road. The climb out is steep. The road up on the mesa is not quite as good, including some very silty sections that might as well have been sand. After you cross over Cherry Creek, the road is paved to Marvel (few miles) then back to good gravel until you get into the hills, at which point you get a mix of great dirt, a few short sand stretches, and brief chunky downhills. A few brief downhills require getting heavy on the brakes. The last stretch as you round the southern tip of Black Ridge is initially VERY steep, then back to good gravel. End on a fast downhill on very good gravel Rancho Durango Rd. From Mancos Canyon to the east edge of Red Mesa, most roads are well marked but even when not the route is pretty obvious (just always follow the largest road at an intersection). After leaving Red Mesa and entering the hills (Black Ridge area), road signs are almost non-existent and branch/spur roads can seem just as big as the main road. I would have a good mapping app (OnX, Google Maps) downloaded prior to the ride because you may not have service in some areas. My rig: Canyon Endurace CF SLX 9.0 (geometry same as Grail but marketed as "endurance road"). Stock except Hunt Gravel 30 rims shod with Panaracer GravelKing SK+ 38 mm front (25 psi) and 35 mm back (30 psi). For much of the ride I was wishing I had gone with more like 35 psi in the back."
Gravel route from Meadow Rd E to Fantango Rd, Durango, La Plata County, Colorado
Dirt route from Rd 4000 to Main Ave, Durango, La Plata County, Colorado
"Mostly dirt some pavement"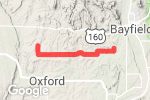 Gravel route from Cassidy Dr to Missouri Center Rd, Bayfield, La Plata County, Colorado
Dirt route from Forest Rd 580 to Unnamed Road, Durango, San Juan County, Colorado
Singletrack route from US-550 to Co Rd 204, Durango, La Plata County, Colorado
1
Gravel route from Forest Rd 578 to Co Rd 578, Durango, Dolores County, Colorado
Gravel route from Forest Rd 585 to Forest Rd 585, Durango, San Juan County, Colorado
Gravel route from Powder Ridge Dr to Forest Rd 578, Durango, La Plata County, Colorado
Gravel route from Co Rd 243 to Forest Rd 597D, Bayfield, La Plata County, Colorado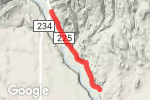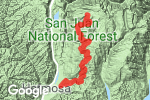 Gravel route from Co Rd 250 to Forest Rd 682, Durango, La Plata County, Colorado
1
Gravel route from Sortais Rd to Silver Mesa Driveway, Durango, La Plata County, Colorado