Gravel route from NF-2820 to NF-2821, Cascade Locks, Hood River County, Oregon
"This FS road is not very steep, but a long tough climb, and should be ridden past where the route ends listed here, and all the way to the summit of Mt. Defiance, the highest point in the Columbia River Gorge. Views from the top are of Mt. Hood, Adams, St. Helens, and Rainier, on clear days, all the way down to glimpses of the Columbia River. Radio towers at the top are a bit of a turn off. I'm labelling this route gravel, but a lot of it is dirt, like many other USFS logging roads. There's not a lot of reason to ride them other than the workout, and views, or because they are there. These roads were built for big trucks, and some still see car traffic, this one included. Bring lots of water, and drink a lot before heading out it's surprisingly dry and hot if in the sun going up this thing."
Gravel route from NF-1720 to 3 Mile County Rd, The Dalles, Wasco County, Oregon
"On the west side, this route starts out on a single lane, old, paved road that eventually perfectly wears out into gravel and dirt as it descends from pine forest, into more sparse land with hardwood trees, and some very old farms. Pavement picks back up where the route ends at the east, but this paved road can be ridden another 7 miles into The Dalles. Heading west towards Mt. Hood, one can ride over the top and down to route 35, which is paved the entire way, but sees light traffic. At the unmarked pass of NF-44, a side road to the south, Lookout Mountain Road, is tough dirt and gravel, with sporadic views. "
Dirt route from Marion Creek Rd to NF-730, Idanha, Linn County, Oregon
"Dirt/Gravel USFS logging road. There's one good reason to ride this beyond a typical forest road with very light traffic, at the first crest of NF-850 where it forks off from Marion Creek Road, is an unnamed pullout. From there a short, unmarked trail leads to spectacular views of Gootch Falls. Use cation if you go, the trail can get damp, and a fall from the viewpoint could be very serious. "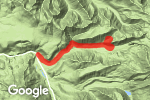 Dirt route from NF-2243 to whitewater Creek Trail, Detroit, Marion County, Oregon
"Dirt/Gravel USFS logging road. This is a bit of a grunt, and you may see some traffic on it during a busy weekend as it leads to a popular trailhead. The main reason to ride it, is some nice views of Mt. Jefferson looking across the Whitewater Creek valley. "
Dirt route on Laurel Grove Rd, Middletown, Middlesex County, Connecticut
"Hard Dirt/Gravel combination. This can be ridden on a road bike if you need to quickly cross from Randolph to Main st. and take it easwy. In a pinch, someone could take a gravel bike halfway down Laurel Grove Road, head west and cut through Wadsworth Park's main trail all the way to Cherry Hill Road. "
Gravel route from Silvermine Rd to Silver St, Middletown, Middlesex County, Connecticut
"Very short, but can be combined with other roads in the area. Part of the old, abandoned CVH insane aslyum was located here, an area local kids called the "torture chamber" because when you were in the building, and the wind blew just right, it sounded like screaming souls from below. "
Gravel route on Reservoir Rd, Middletown, Middlesex County, Connecticut
"I believe this is state land, but the road crosses the resevoir and is very scenic. Hey, it's not my fault you missed the sign and authorities came after you. "
Gravel route on Cedar Ln, Middletown, Middlesex County, Connecticut
"Mildly hilly, true gravel. On a GG/Adventure bike, this could be combined with nearby gravel and asphalt roads for excellent training on quiet roads. "
Gravel route from Aircraft Rd to Dublin Hill Rd, Haddam, Middlesex County, Connecticut
"Classic hilly one-lane gravel."