Gravel route from State Rd 1516 to Rommey Green Rd, Tryon, Polk County, North Carolina
1
5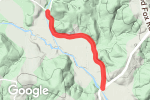 Gravel route from Mountain Lakes Dr to State Rd 1116, Tryon, Greenville County, South Carolina
"Hogback Mountain Road turns to dirt at the top. Have to go around a few gates. Good for bicycles, closed to vehicles."
Gravel route on Clarence Rhodes Rd, Tryon, Polk County, North Carolina
"Several blind curves and a few houses. road is not quite 2 full lanes so take care. "