Gravel route from Roper Hollow Rd to Unnamed Road, Bostic, Rutherford County, North Carolina
"Dirt, gravel and gates only open during certain hunting season. I got way deeper than 5 miles today. Almost made it to Pine Ridge Dr. on the other side! Awesome dual sport road. "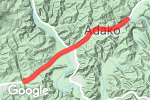 Pavement route from Brown Mountain Beach Rd to State Rd 1337, Lenoir, Caldwell County, North Carolina
Gravel route from Old Table Rock Mountain Rd to Old Table Rock Rd, Morganton, Burke County, North Carolina
"The first several miles of this route is well maintained and easy, sections toward the top are steep and rutted out. All doable on an adventure bike but the upper sections will require more skill."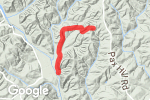 Gravel route on Corpening Bridge Rd, Morganton, Burke County, North Carolina
"Short easy section that can be combined with Playmore Beach Road and Brown Mountain Beach Road for a longer ride and access to the Mortimer area gravel."