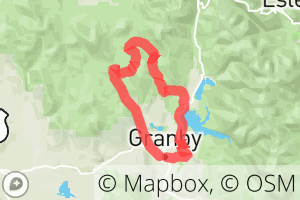 Gravel route on E Agate Ave, Granby, Grand County, Colorado
"This is a great loop that starts in Granby and takes you around Gravel Mountain and Stillwater Pass. There's only creek water for filtering or a small convenience store at about mile 50. The ride starts out on a paved highway up past Denver Creek Campground before you turn right on Road 482. This dirt road will wind up to the top of the first climb of the day before turning into Road 458. There's a creek at the top to filter water. Don't be surprised if you see a few dispersed campers or lots of hunters in the fall. Some maps show a gap between the two roads, but in practice, you'll never notice as the road just continues on to County Road 4 where you'll turn right. Road 4 has a bit more traffic as this is the road that connects over to the Grand Lake side of the area. There are a few punchy sections of the climb to the top, but nothing crazy. At the top of the Stillwater climb, you may not realize you're there as the trees block the views. You can climb up a rugged Jeep road a bit and out to a rock outcropping to view a bit more of the valley. The descent down CR4 is pretty fast and rough in spots so check your speed and brakes a few times. You will encounter a fair bit more traffic on this side of the pass. There are a few dirt road spurs off of CR4, but it's pretty clear what is the main road out. At the bottom of the dirt, you'll connect to US34. Just past Best Vu motel is a small boat shop that has cold drinks and snacks next to Lake Granby. You'll cruise back south on US34 for a few miles before jumping onto CR620 and winding through a neighborhood and back to the east side of Granby to the finish. You can also go straight back on US34 to Granby and skip the short dirt section east of town. "
1
Gravel route from County Rd to Sunset Way, Fraser, Grand County, Colorado
"Epic from Tabernash through YMCA, over Little Cottonwood Pass and back to Tabernash via CR 50"
Gravel route from County Rd to Co Rd 6, Granby, Grand County, Colorado
"Beautiful ride to Monarch Lake! Many Moose!"
Gravel route on 6th St, Granby, Grand County, Colorado
"A winding loop through a rural subdivision on Granby Mesa. Perfect 1 hour evening ride. Very little traffic on well-maintained gravel. Some variations available."
Gravel route from Co Hwy 55 to Byers Ave, Granby, Grand County, Colorado
"A true classic Grand County gravel segment. It's steeper from the Granby side but more difficult from the Hot Sulphur side due to more elevation gain and longer uninterrupted climbing."
Gravel route on W Garnet Ave, Granby, Grand County, Colorado
"I rode this loop in a clockwise direction from Granby. Many variations possible on this loop. Counterclockwise would be harder, with the 3,000-foot climb up the Beaver Creek road. I Rode Highway 40 back into town on pavement, but could add Cottonwood Pass from Hot Sulphur instead for another tough climb at the end. "